Antonio Pacelli Gift Certificate
Treat the Irish dancer in your life!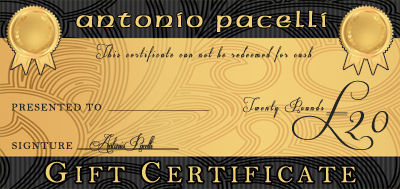 Not sure what to get an Irish dancer as a gift? Then send them an electronic gift certificate and let them choose from over 200 Irish dance products in our online store!
Simply select the amount you want to send and their email address and we will send them an email with your personal message!
Gift vouchers are also a great way of converting your Antonio Pacelli Loyalty points into a voucher you can use against any product on the site. Very useful if you don't have enough points to completely purchase an item!
Gift vouchers are sent as soon as you have paid for your purchase. If you want to send the gift voucher on a certain date then enter your own email address in the Send to Email and Confirm Email boxes. This means you will receive the gift certificate email which you can then forward to the person on the correct date.
Please note that you have to activate your gift voucher before you are able to use it towards a purchase.
Please click here to activate your gift voucher.