Dance Trainers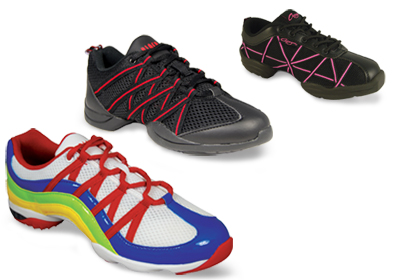 A fantastic range of dance trainers suitable for Irish dancing.
All of the dance trainers on offer here are split sole which allows you to point your toes. They also have non marking soles so you won't damage your dance floor and spin spots to make turning easier (this also takes the pressure off your knees). Most styles also have a square toe for toe walking - but do check this on the individual style before ordering.
Dance trainers are a great way to practise your Irish dancing outdoors without damaging your jig shoes or pumps.
They also look great and are really comfy!
£38.95
NEW dance trainers from Capezio!
£31.99
Available with a range of colour accents!
£35.99
Available in a range of bright colours!
From £32.99
With an eye catching twist design!
From £24.99
Great value and one of best sellers!
£34.99
Over 6 colours to choose from!
From £32.99
Extremely light and flexible!
£21.50
Lightweight and flexible dance trainer with coloured soles!
From £26.50
Lightweight and flexible low profile sneaker.

Capezio Hi-Top
From £36.99
Offers great ankle support while still offering all the features you need for dance class.
From £47.99
A classic dance sneaker. Offers great support and cushioning.
From £42.99
Suitable for vegan dancers.
From £23.99
Extremely flexible and lightweight low profile dance sneaker.
£34.99
A feminine and style dance trainer with satin and patent uppers.
£28.50
They look like dancing pumps!,