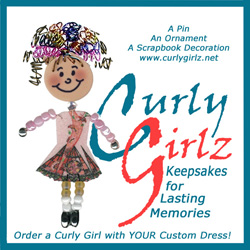 Curly Girlz
---
Picture 1 - Liffey Rivers Curly Girlz
Our Liffey Rivers Curly Girlz Pin was created to represent the main character of the popular Irish dancer mystery book series of the same name written by author Brenna Briggs.
Handmade, the Curly Girlz pin measures approximately 40 x 75mm.
Price in British Pounds: £9.99
Image 2 - Curly Girlz Christmas Ornaments
Curly Girlz can be Christmas Ornaments during the holiday season and worn as a badge, brooch or pin the rest of the year.
Simply attach the included ornament hook to the clip on the back of her head.
Collect one for each outfit your child has worn to capture the memories of his/her Irish dancing years.
Handmade, Curly Girlz pins measure approximately 40 x 75mm.

Price in British Pounds: £15.99 each
Image 3 - Dog Tags with Colorful Silicone Bumper measures: 32 x 51mm
Choose from 2 designs:
Keep Calm and Adjust Your Tiara – Pink
Complete with beads* and ball chain necklace measuring: 610mm
OR
Irish Dancers Kick Butt - Lime
Complete with beaded* keychain; overall length: 145mm
Price in British Pounds: £9.99 each
*European Style Beads selected to match may vary due to inventory on hand.
So come and visit our site and make your own customised Curly Girlz!
Join the Marketplace
Marketplace
Disclaimer: Marketplace listings are maintained by third parties. Antonio Pacelli is not responsible for their content.
---
Contact Curly Girlz
USA
UK to US dial 001-386-259-4348
info@curlygirlz.net