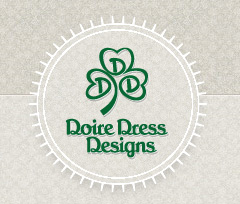 Doire Dress Designs
---
Doire Dress Designs was founded in 2006 by Shauna Shiels. Shauna having been involved in Irish Dancing for many years with her daughters Tomasina and Codie had been creating dress designs for her girls as a hobby.
Shauna like many other Derry mothers was extremely skilled in apparel creations having worked in Derry's vast clothing industry since the age of 16.
Her passion for Irish Dancing and dress making however started at an early age spending time with her mother Eilish Young who is an experienced dress maker. Shauna believes her skills, drive and passion for dress making and particularly Irish Dance Costumes have been inherited from her mother.
The business operates out of its own premises on the Buncrana Road, manufacturing high quality Irish dance costumes and leading the way in innovative modern designs and dress making technology.
Not only do we provide a personalised 1st class service in the design and manufacture of Irish Dancing Dresses but we also offer our customers a full makeover service, free at the final fitting of your dress if booked in advance, where you can try the latest Irish dancing accessories which are stocked by Doire Dress Designs.
Our aim is to offer a world class quality service whilst ensuring that we maintain an appreciation of the expense of having an Irish Dancer in the family. We believe our prices are a fair reflection of the quality of service and product produced.
Join the Marketplace
Marketplace
Disclaimer: Marketplace listings are maintained by third parties. Antonio Pacelli is not responsible for their content.
---
Contact Doire Dress Designs
Doire Dress Design, Unit 5, Elagh Business Park, Buncrana Road, Derry BT48 8QP
Northern Ireland
+44 28 7135 8016
info@doiredressdesigns.com