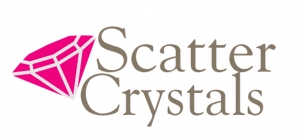 Scatter Crystals
---
We stock the following Swarovski Elements:
Non-Hotfix Flat Back Crystals
Hotfix Flat Back Crystals
Sew On Crystals
Beads
Pearls
Single Stone Settings
Rose Pins
Rose Montees
Table Crystals
Do you use regular beeswax, but find it's too soft, leaves residue?
Tweezers cramp your hands and fling crystals across the room?
Then this is the tool for you…........ This "Patent Pending" Crystal Katana by CrystalNinja was created by award winning Flatback Specialist and master user, Kellie DeFries and proven to shave time off the process of hand setting-gluing Swarovski Flatbacks, SS12-SS40.
We are also the UK distributor for the Bejeweler Pro UK Hotfix Crystal Applicator:

Applies hotfix crystals to clothes & accessories, costumes, cards & Invitations, wedding embellishments, crafts and more! Designed specifically for the application of Swarovski Hotfix Crystals.

Includes:
BeJeweler Pro UK with soft, flexible handle.
8 Tips: 2.5mm (SS8), 3mm (SS10), 3.5mm (SS12), 4mm (SS16), 5mm (SS20), 6mm (SS30), 7mm (SS34), Hot Spot Tip for use with any sizes also included. The tip sizes are printed on the tips for easy identification.
Secure Support Stand.
Cleaning Brush.
Directions for use.