Clothing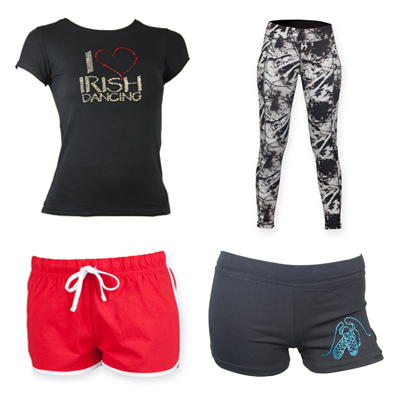 Whether you are looking for shorts for dance class or something bling to express your love of Irish dance we've got it here.
T-shirts, Racerbacks, Hoodies, Leggings, Shorts, Skorts and more! We've got them all!
Perfect Beginners Feis Skirt
£18.99
Combine with our circular skirt for a great feis costume.
£22.99
Age 4-5,6-7 In Stock
*REDUCED* Was £10.99
£5.00
Only Age 10-12 Left In Stock
Was £18.99
£8.00
Get Noticed, Go Retro!
*REDUCED* Was £9.99
£4.80
Age 3-4, 5-6. 7-8. 12-13
*REDUCED* Was £5.99
£2.00
Only Pink XLarge Left!
*REDUCED* Was £9.95
£3.49
*REDUCED* Was £7.99
£4.00
*REDUCED* Was £9.99
£5.00
X-Large Left In Stock
*REDUCED* Was £16.99
£7.99
Only Large Left In Stock
*REDUCED* Was £24.99
£10.00
Age 4-5 Left In Stock
*REDUCED* Was £19.99
£10.00